THIN FILM STRUCTURE AND MOLECULAR ORIENTATION ON SURFACES
PROBED BY SECOND-ORDER NONLINEAR OPTICS

Optical SHG vs. orientation of an external influence n
(e.g., substrate crystalline axes, applied fields, oblique evaporation)
<![if !vml]>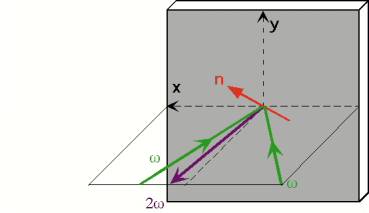 <![endif]>
<![if !supportEmptyParas]> <![endif]>
"Linear optical responses beyond the electric dipole approximation on reflecion and transmission - a perturbation treatment (PDF)," OSA-Continuum 4, 966-989 (2021).
"Measuring Linear Electric Quadrupole Susceptibility of Non-Centrosymmetric Crystals with Reflectivity Difference (PDF)," Rev. Sci. Instrum 92, 025103 (2021).
"Hidden Linear Optical Response Reveals Crystalline Symmetry (PDF)," with Hang Zhang, Opt. Lett. 45, 2439 (2020).
"Novel Excitation and Detection of Surface-Plasmon Polariton Wave on Cu(111) with Gratings of Rare Gas Monolayers (PDF)," with Y.Y. Fei and X. Wang, Opt. Lett. 33, 1914-1916 (2008).
"Evolution of a Preferred Orientation of Polycrystalline Grains in Obliquely Deposited Gold Films on an Amorphous Substrate (PDF)," with D. L. Everitt, W.J. Miller, N.L. Abbott, Phys. Rev. B 62, R4833 (2000).
"Observation of long-range orientational ordering in metal films evaporated at oblique incidence onto glass (PDF)," with D. L. Everitt, W.J. Miller, N.L. Abbott, Mat. Res. Soc. Symp. Proc. 615, G7.7.1 (2000).
"Molecular Quantum Electrodynamics Calculation of Multipolar Optical Harmonics Generation from Isotropic Media (PDF)," with G.X. Cao, Phys. Rev. B 51, 2418 (1995).
"Multipolar Contributions to Coherent optical Second-Harmonic Generation at an Interface between Two Isotropic Media: a Quantum Electrodynamic Calculation (PDF)," with A. Wong, Phys. Rev. B 46, 2540 (1992).